The 2023 AfCFTA Roundtable Workshop(Digital Trade &E-commerce Protocol(Data Governance & Protection)
Reliving the success of the 2023 AfCFTA Roundtable Workshop!  Hosted by the Africa Digital Rights' Hub, the event brought together experts, academics, policymakers, and stakeholders to delve into Digital Trade & E-commerce Protocol, shaping Africa's digital landscape.
Held on August 17th, 2023, this virtual roundtable workshop marked a significant step in the ongoing digital transformation of the continent. Attendees engaged in insightful discussions, reviewed the draft guide on Data Governance & Data Protection, and shared valuable perspectives.
The event fostered collaboration, empowering us to navigate the complexities of the digital era while safeguarding individuals' rights
Protecting Data and Opening Data - Open Data Day 2023
The Africa Digital Rights Hub hosted an engaging Fireside Chat to commemorate Open Data Day 2023. The event focused on "Protecting Data & Opening Data" in Africa, raising awareness about the importance of data protection and open data. Esteemed speakers, including Omar Seidu and Al Kags, shared insights during the two-hour virtual discussion, moderated by Ms. Teki Akuetteh. The event reached a wide audience through Zoom and live-streaming on social media, shaping the dialogue on data's future. The event took place on the 10th March, 2023.
Women and IP: Accelerating Innovation and Creativity in the Digital Space in Africa
The Africa Digital Rights Hub  hosted a Twitter Space event on the 26th April, 2023 to celebrate World Intellectual Property Day. Focusing on "Women and IP: Accelerating Innovation and Creativity in the Digital Space in Africa," the event raised awareness about women's contributions and the role of intellectual property rights. Expert panelists discussed the significance of IP, providing a platform for successful women entrepreneurs and inventors to share insights. The event targeted a diverse audience, aiming to foster innovation and entrepreneurship while promoting IP protection.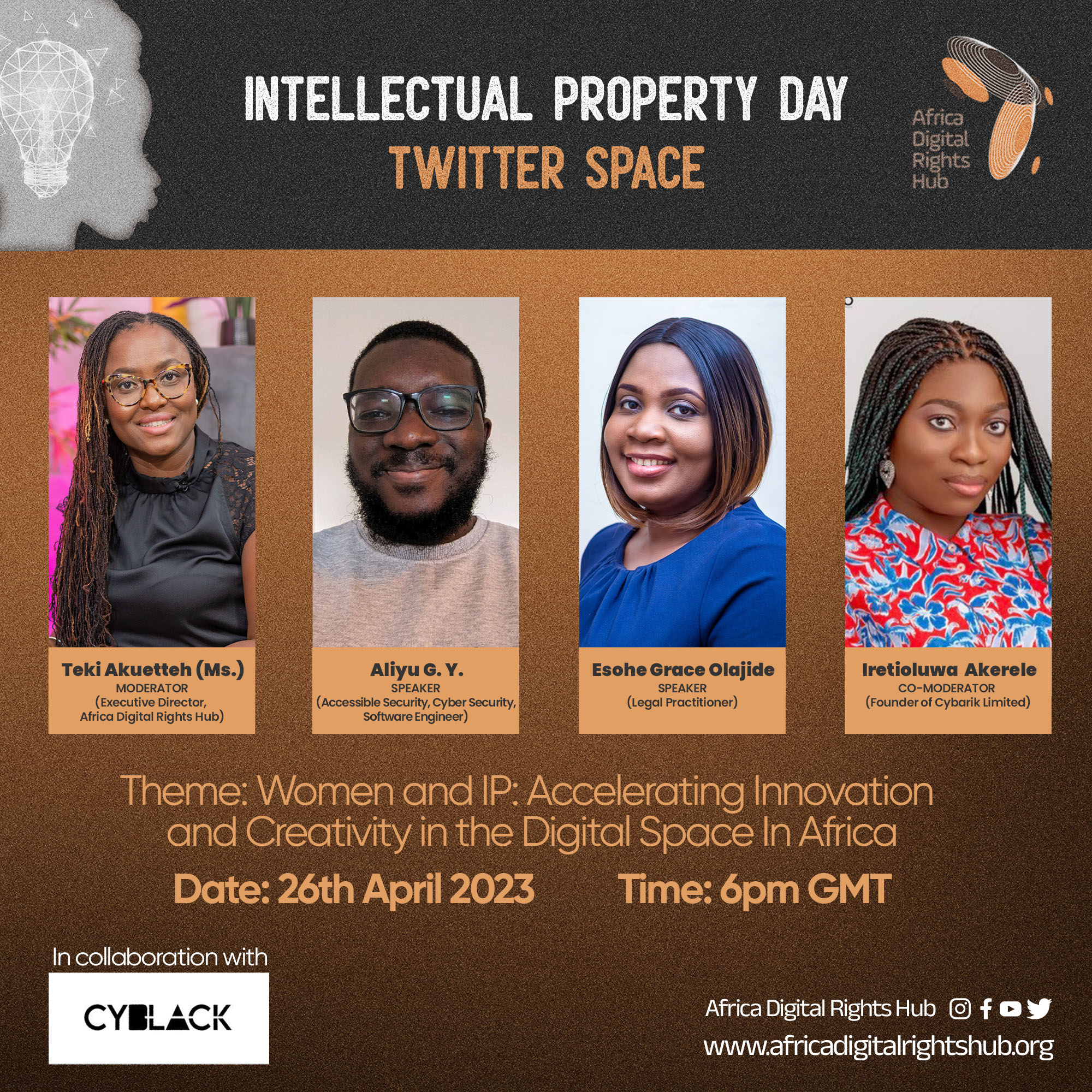 Digital Rights Africa Podcast (Season 2)
Africa Digital Rights' Hub is back with an exciting lineup of discussions, interviews, and insights on the most pressing issues concerning data protection and privacy, cybersecurity, child online protection, intellectual property rights, and data governance across the Africa continent.
In this highly anticipated 2nd season, we aim to continue our mission of raising awareness and building capacity on digital rights issues. We are committed to providing valuable information and engaging conversations that empower individuals, organizations, and governments to navigate the complex digital landscape in Africa.
Starting from the 31st March 2022, our podcast episodes will be broadcasted on multiple platforms, including YouTube, Spotify, and Apple Music.