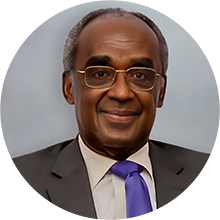 Justice Samuel Kofi Date-Bah is the Chairperson of the Executive Council of the Africa Digital Rights Hub.
He is also currently Chairman of the Electronic Communication Tribunal, and of the Law Reform Commission. He was a member of the Supreme Court of Ghana from 2003 to 2013, before which he served as a Special Adviser (Legal) at the Commonwealth Secretariat in London from 1984 till 2003. 
Prior to this, he was engaged as a law Professor at the Universities of Ghana, Nairobi, and Calabar (Nigeria), with visiting appointments at Lincoln College, Oxford, and the Yale Law School.  Educated at the University of Ghana (LL.B, first class honors 1965), the Yale Law School (LL.M, 1967) and the London School of Economics (Ph.D.1969),  he was called to the Ghana Bar in 1969.
Elected a Fellow of the Ghana Academy of Arts and Sciences in 2000, he is a member of the International Academy of Commercial and Consumer Law and was a member of the UNIDROIT Working Group which formulated the UNIDROIT Principles of International Commercial Contracts. Professor Date-Bah has published extensively on Ghanaian law and international commercial law; his latest, a book entitled:  Reflections on the Supreme Court of Ghana (2015).
After retiring from the bench, he remained Chairman of the Ghana Law Reform Commission and the Data Protection Commission of Ghana till January 2017. 
He Chaired the National Data Protection Conferences held in Accra in 2016 and 2017.  He was re-appointed Chairman of the Law Reform Commission in 2017. He was decorated with the Order of the Volta in 2015.