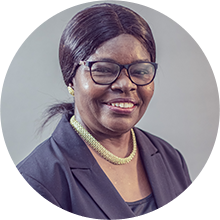 Dr. Philomena Efua Nyarko is a Statistician and Demographer. She has served in various capacities in both the public and private sectors in Ghana. Until her retirement from the Public Service in November 2016, she was the Government Statistician and Chief Executive Officer of the Ghana Statistical Service (GSS) having previously served as the Deputy Government Statistician and later as Acting Government Statistician from August 2010 to April 2013.
Between 2001 and 2010, she taught technical demography, statistical computing and advanced quantitative analysis at the Regional Institute for Population Studies of the University of Ghana, Legon. While at the University of Ghana, she took a leave of absence to join the Population Council as a Program Officer on the Population Council's FRONTIERS Reproductive Health Program, where she provided technical assistance to Ghanaian partner organizations to undertake operations research to help improve reproductive health service delivery in the country.
Prior to teaching at the University, she worked with the Ghana Statistical Service for approximately 10 years, supporting the planning and implementation of statistical surveys, preparing statistical reports and disseminating research findings to guide policies and programmes. In 1999, she received a two-year Postdoctoral Mellon Fellowship to work with the Navrongo Health Research Centre as the head of the Navrongo Demographic Surveillance System, with the overall responsibility of managing and supervising field operations, analyzing and disseminating data and providing statistical and demographic support to other units within the Centre.
She has served on several national and international Boards and Committees and is currently a Research Consultant and Member of the Technical Working Group of the "African Health Stats", an Online Health Data Platform. She is also the Chair of the Governing Board of the Assin Manso Senior High School and a Member of the Task Team for the Preparation of the Second Phase of the Global Strategy to Improve Agricultural and Rural Statistics. She also serves as a Member of the Expert Group on the Regional Report of the African Gender and Development Index (AGDI).