Digital Rights Africa Podcast (Season 2)
Africa Digital Rights' Hub is back with an exciting lineup of discussions, interviews, and insights on the most pressing issues concerning data protection and privacy, cybersecurity, child online protection, intellectual property rights, and data governance across the Africa continent.
In this highly anticipated 2nd season, we aim to continue our mission of raising awareness and building capacity on digital rights issues. We are committed to providing valuable information and engaging conversations that empower individuals, organizations, and governments to navigate the complex digital landscape in Africa.
Starting from the 31st March 2022, our podcast episodes will be broadcasted on multiple platforms, including YouTube, Spotify, and Apple Music.
Protecting Data and Opening Data - Open Data Day 2023
The Africa Digital Rights Hub hosted an engaging Fireside Chat to commemorate Open Data Day 2023. The event focused on "Protecting Data & Opening Data" in Africa, raising awareness about the importance of data protection and open data. Esteemed speakers, including Omar Seidu and Al Kags, shared insights during the two-hour virtual discussion, moderated by Ms. Teki Akuetteh. The event reached a wide audience through Zoom and live-streaming on social media, shaping the dialogue on data's future. The event took place on the 10th March, 2023.
2022 Data Protection Africa Summit
The Data Protection Africa Summit, organized by the Africa Digital Rights Hub in collaboration with the Information Regulator of South Africa, took place in Johannesburg from November 21st to 23rd, 2022. The event aimed to address data protection and privacy challenges in Africa's digital economy. Participants included data controllers, processors, policymakers, and regulators. The summit focused on building capacity, fostering collaboration, and showcasing tools for data protection compliance. It aimed to influence the development of national and regional frameworks, build industry capacity, and promote regional cooperation among stakeholders.
Digital Rights Africa Podcast
(Season 1)
Africa Digital Rights' Hub is a not -for profit think-tank organization in Africa that facilitates research, advocacy and capacity building on digital rights issues in Africa. As part of our Awareness and Capacity Building programmes, we wish to welcome you on our maiden Podcast edition on the Digital Rights Africa Podcast where we talk about everything Data Protection and Privacy, Cybersecurity, Child Online Protection, Intellectual Property Rights and Data Governance issues across Africa. We start airing on the 16th September 2022 and will be available on Youtube, Spotify and Apple Music. Stay Tuned 
2022 African Data Protection Laws Conference
In partnership with the University of Passau and the University Of Ghana School of Law, Africa Digital Rights Hub organised the 2nd edition of the 3-day Data Law Conference.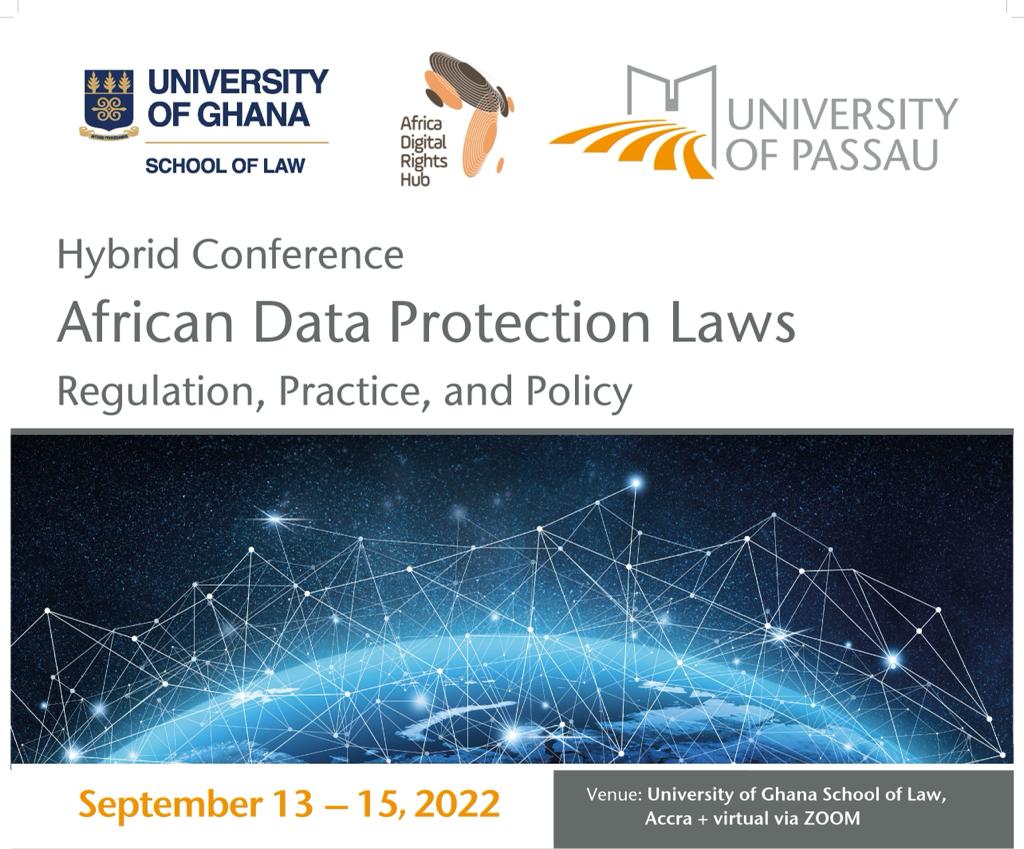 2022 Open Data Day - "Open Data For Africa's Development"
Africa Digital Rights' Hub under its Sensitization & Awareness Programme geared towards advancing and promoting digital rights issues across the African continent organized its OPEN DATA DAY 2022 zoom webinar themed "Open Data For Africa's Development". The event took place on the 5th March 2022. The goal of this event was to raise awareness about open data as the world celebrates Open Data Day. 
2022 Live with Facebook (Meta) - Managing your privacy on Meta
In this interesting event, Dr. Ololade Shyllon and Teki Akuetteh (Ms.) talked about how to use to manage your information on Meta. 
2022 Data Privacy Week & Day Celebration
Theme: Own Your Privacy 
Objective: To raise awareness and encourage best practices in privacy and data protection among African citizens.