FACEBOOK
While Facebook isn't as popular with kids anymore—too many parents and adults are there—plenty of teenagers still use it, and its privacy settings are among the most complex. To make matters worse, Facebook changes their privacy policy and settings often, so what you see today may be different next month.
To access Facebook's privacy settings from the Settings page on the Web, go to https://www.facebook.com/settings/?tab=privacy. You'll see a page that looks similar to the following: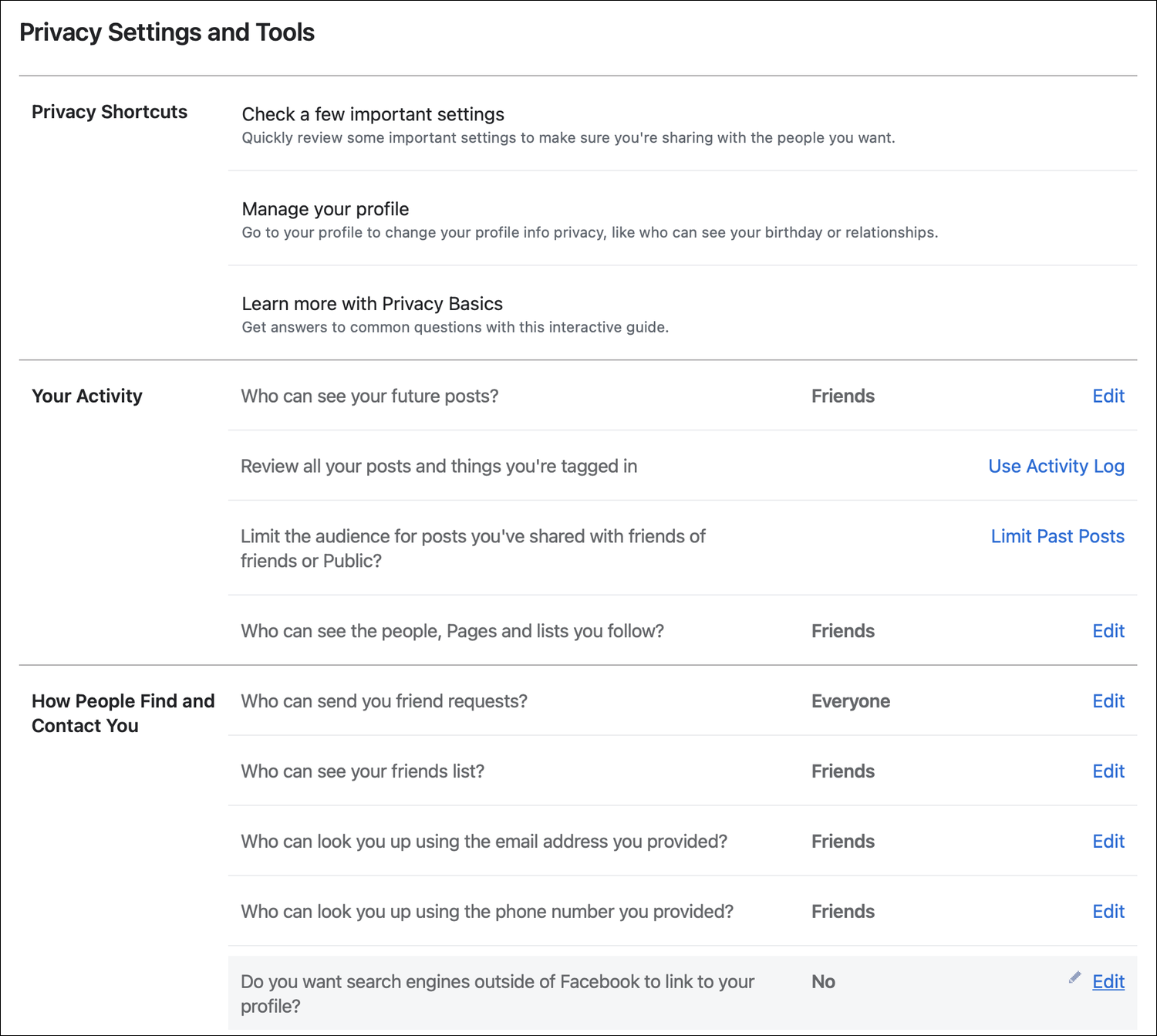 To get to Facebook's privacy settings in the Facebook app on iOS or iPadOS, tap the hamburger button (☰), then scroll down to Settings & Privacy and tap that. Note that the interface in the app is quite different from what you'll see on the Web.
Facebook explains these settings in the Privacy Shortcut section. It tells you to Check a few important settings, Manage your profile, and suggests that you Learn more with Privacy Basics. It's a good idea to go through these sections to better understand what Facebook settings do.
Some of the main privacy settings to check include the following:
Who can see your future posts?
Who can send you friend requests?
Who can see your friends list?
Who can look you up using the email address you provided?
Who can look you up using the phone number you provided?
Do you want other search engines to link to your timeline?
For all of these, the safest settings are "Friends" and "No." Have a look at all of the Privacy settings and see which others you want to change.
Facebook also lets you block users. Click Blocking in the sidebar at the left; you can add names or emails of users to block, and you can block apps, app invites, and pages. Help your kids learn to do this if they get harassed on Facebook.
There's a Face Recognition setting accessible from the sidebar, where Facebook asks, "Do you want Facebook to be able to recognize you in photos and videos?" It's a good idea to say no to this, to prevent Facebook from tagging your child in photos posted by others.
Other settings to change are in the Profile and Tagging section; you want to only allow friends to post on your child's profile, and you should probably only allow friends view what's on their profile as well.
In the Public Posts section, you can choose who can follow your child, who can comment on their posts, and more. The Location setting allows you to turn off location history in the Facebook app, which is advisable.